If you're wondering how to get Observation Haki in Blox Fruits, then you're in the right place. GameGrinds is a treasure chest when it comes to Blox Fruits guides, tutorials, and tips.
Blox Fruits is a famous One-Piece-based Pirate Roblox game. Become a master at combat using different martial arts and weapons, or be unstoppable with the power of Blox Fruits.
But just like in One Piece, a character also has an inner power that you can awaken. This hidden power is called Haki, and it buffs your character giving them a huge boost in stats. One of them is the Observation Haki which allows you to dodge like a god.
Also see: Blox Fruits Codes – Free XP Boosts and Money
In this Roblox Blox Fruits guide, we'll go over how to get Observation Haki in Blox Fruits, the requirements you need to reach, how you can upgrade it, and basically everything you need to know about this power in Blox Fruits.
What is the Observation Haki in Blox Fruits?
Blox Fruits characters can equip different kinds of weapons and powers in their arsenals. There are currently two types of Hakis, the Observation or Ken Haki, and the Enhancement or Buso Haki. We'll be focusing on the first one.
The Observation Haki, aka Instinct, allows the user to dodge incoming attacks. It also allows you to see the enemies or other players through solid surfaces and see their health and energy levels as well. This also works even when they are a little far away and increases with level.
Instinct or Observation Haki is a really beneficial power both in the game and in the anime. That's why a lot of players have been wondering how to get Observation Haki in Blox Fruits. But before that, there are certain requirements that must be met.
Observation Haki Requirements
First, you need to be at least Level 300 or higher
Kill Saber and complete the Saber Expert puzzle
And of course, you need to have cash. 750,000 Beli to be precise.
Now, once you meet all the requirements, you can proceed with obtaining the Observation Haki.
How To Get Observation Haki In Blox Fruits
Now that you are ready, go to the second area of the Upper Skylands. This is also where the Bisento and Dualblade are sold. Then you have to go to the Instinct Teacher or The Lord of Destruction NPC to learn the Observation Haki.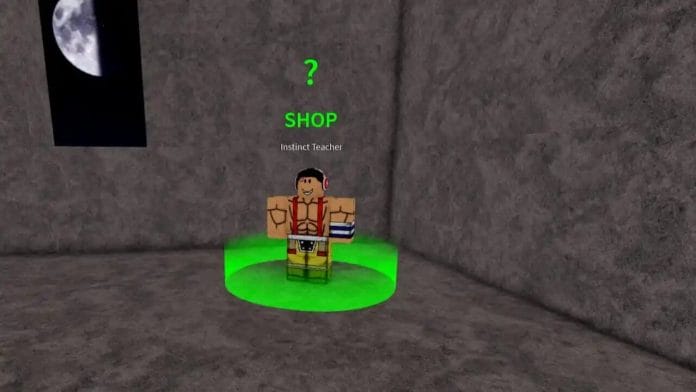 Look for a large structure that looks like a temple, and you will find the Instinct Teacher on top. Interact with this guy and offer him 750,000 Beli to learn Instinct or Observation Haki. Congratulations, you now have Observation Haki.
All that's left is to activate and use it using the hotkey for Instinct, which is E or K, or Left on the D-Pad if you're playing using a controller.
How to Upgrade Observation Haki in Blox Fruits
Now that you know how to get Observation Haki in Blox Fruits, you'll be thrilled to know that this awesome ability can be upgraded to make it even more powerful.
As you dodge attacks, you will gain EXP that will upgrade your Observation Haki. The Floating Turtle Island in the Third Sea is a good place to farm up as well.
| EXP | Observation Haki Level | Dodges |
| --- | --- | --- |
| 0 | 1 | 2 |
| 50 | 2 | 3 |
| 330 | 3 | 4 |
| 815 | 4 | 5 |
| 1418 | 5 | 6 |
| 2121 | 6 | 7 |
| 2824 | 7 | 8 |
| 5000 | Maximum Range | |
That is the limit for Observation Haki V1. Though you can reach the maximum level with around 2500 EXP, you should make it reach 5000.
That way, you can reach the maximum range for your Haki, and it will also allow you to upgrade it to Observation Haki V2.
How Do You Get Observation Haki V2 in Blox Fruits
Observation Haki V2 is a special and stronger ability released during Update 15. You can upgrade to V2 in the Third Sea. All you have to do is complete a fairly long quest which is The Hungry Man Quest.
Then you're Haki will be stronger, faster, and have a wider range than a Max V1 Observation Haki.
Along with completing the Hungry Man Quest, you can also farm up in the Floating Turtle Island to level up your character quickly because there are a lot of 1775 – 1975 enemy levels here.
With some effort in grinding, you will reach Max Observation Haki in no time.
Conclusion
And that's how to get Observation Haki in Blox Fruits. So go and dodge those enemy attacks and become a lot stronger in the process.
Getting your Observation Haki can be a long but rewarding experience, especially with the boosts that you'll receive.
GameGrinds is a reals treasure trove when it comes to tips and tricks, guides, tutorials, and hidden gems for Blox Fruits. So make sure you bookmark and check out other resources like Blox Fruits Codes.