While other people see their mobile phones as a means for entertainment and socialization, some populations, such as the deaf, see this gadget as a way to help deal with the impairment. Thanks to new technologies, the deaf can now access a hearing aid app for android phones.
If you suffer from this kind of condition – or if you know one who does – then make it a point to recommend these best programs for the hearing-impaired:
List of Best Hearing Aid Apps for Android
Eargo
Heralded by Time Magazine as one of the best inventions of 2018, Eargo is a program that can be customized according to your needs.
Eargo comes with an easy-to-follow manual so that you can personalize the program easily. All you need to do is heed the instructions as you navigate through the menu options. And, should you still find it hard to follow the directions, you can always call the company and have a live chat with cheerful Eargo professionals.
What's great about Eargo is that it also comes with a wireless charger. This allows you to charge the battery remotely – and check the battery life from time to time.
Signia TouchControl App
If you're using a Siemens hearing aid, then you will benefit a lot from the Signia TouchControlApp. This simple, user-friendly app allows you to control your hearing aid without the need for another device. This allows you to save money because you don't need to buy another gadget so that you can link your hearing aid with your phone.
Signia TouchControl App allows you to adjust the volume and the audio balance of your hearing aid, as well as modify the span and direction of microphones.
The app has a tinnitus manager and a check battery status as well.
While the program is easy to use, it is best to have your hearing aid adjusted by a healthcare professional before starting. This will help you unlock the full benefits of the app.
Resound Smart 3D
If you keep on misplacing your hearing aid, then Resound Smart 3D app is the perfect program for you. It allows you to locate your hearing aid – and so much more! You can enjoy this benefit simply by streaming your hearing aid with your phone.
As a bonus, this program can also help people suffering from tinnitus, where you feel ringing in your ears. The Resound Relief app provides sound therapy and meditative exercises so you can be free of tinnitus while you wait for your next doctor's appointment. Then again, you can also skip the long waiting time by using the app's remote access to healthcare professionals.
Genius Control
Genius Control allows you to manage your hearing aid with the help of your Android phone. In a nutshell, Genius Control can accomplish the following things:
Alter the listening programs
Adjust/turn off the duster volume
Navigate speech
Modify the bass with the help of the TrebleControl function
Stream the sound through speakers
All these are possible in just a few taps, making Genius Control an easy-to-use program for the hearing impaired.
RogerVoice
Borne out of a Kickstarter campaign, RogerVoice is an app that allows the deaf to make and receive phone calls. The program – which supports 12 languages – can analyze the incoming call and transcribe it to subtitles in real time.
What's great about this app is that it doesn't need to be installed by the receiving end. With that being said, users only need to install this program, and they're good to go.
Smart Hearing Aid (No Longer Available)
Smart Hearing Aid app for Android works by determining the sound frequencies that the user finds problematic. Once it figures it out, the program filters and amplifies the frequencies for a good hearing experience.
The only downside to this program is that it won't run if it's in the background. So if you need to use this app, you need to use this first and not shuffle in between programs.
For best results, make sure to use an earphone while accessing the Smart Hearing Aid app.
Connect by BeWarned (No longer available)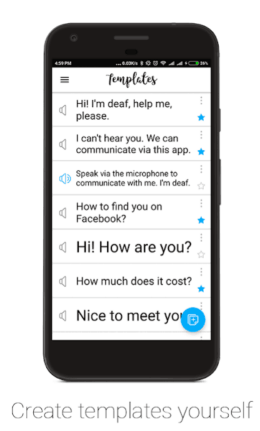 Buying groceries from the supermarket or purchasing food from a restaurant can be challenging for the hearing impaired. Fortunately, Connect by BeWarned can help them with this – and more!
The app allows the hearing impaired to type text, which the app then transforms into speech. As for the service provider, they can speak to the app – and the message will be transcribed into text.
This program's great because it allows the user to create templates for common questions/statements. For example, if you are fond of ordering a strawberry cheesecake, you can make it a template and activate the app once you arrive at your favorite restaurant!
Conclusion
Everything can be done with a mobile phone in this day and age. You can surf the net, order food, or even jump on a carpool.
The possibilities are indeed endless, especially for the deaf. Because of the hearing aid app for Android phones, the deaf can go about their daily routines smoothly and efficiently.
The deaf community has long been underserved when it comes to technological breakthroughs. But, because of modern technologies like hearing aid apps for Android devices, they can now communicate with the world in ways that were before unimaginable.
We hope you find this post to be both useful and instructive. Leave your thoughts on the subject in the comments section below.