Sick of back pain and dragging that old monoblock chair around? If you want to upgrade your comfort and style while gaming, then a gaming chair can never be absent in your setup.
Listen to music while you game, connect your other devices, or just show off a gaming chair that can talk to your friends. The technology behind these gaming chairs is mindblowing. If you're looking for a gaming chair with speakers, this article is for you.
5 Best Gaming Chairs With Speakers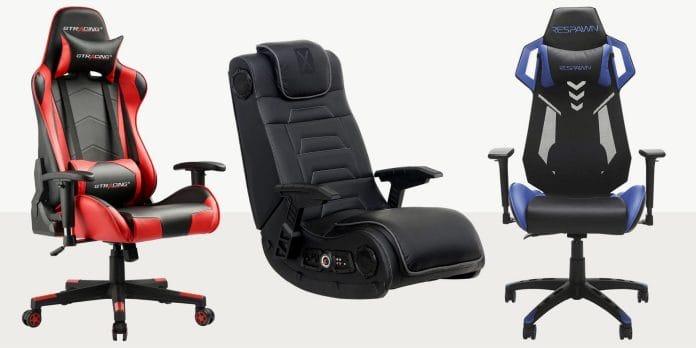 We have compiled 5 of the best gaming chairs with speakers that will definitely make your gaming room sound as epic as it looks, plus added comfort since these are ergonomic.
Also read: 10 Best Lumbar Support Gaming Chairs: Helps Gamers Promote Good Posture
05. GTRACING Gaming Chair with Footrest and Bluetooth Speakers
GTRACING has been well-known for producing quality gaming chairs like this one. It features a strong metal frame that gives you a more ergonomic sitting position while keeping its sturdy and durable build.
It also comes with two Bluetooth speakers that you can connect to your devices while gaming.
Other Pros:
Smooth Pu leather upholstery
Adjustable seat height
Reclining
360 degree swivel
Removable Headrest
04. GTRACING Gaming Chair with Speakers Bluetooth
It looks premium and is also made with premium-quality materials. The pads are thick, and the casters are made of very smooth nylons that will not damage your floor like other gaming chairs. The Bluetooth speakers offer quality sound with a range of 5 meters.
You can enjoy deep bass, clear audio, and crisp sound for up to 6 hours when the speakers are fully charged.
Other Pros:
170 degree reclination angle
Ergonomic metal frame for durability and comfort
Heavy duty nylon wheels
03. X Rocker Wireless Audio Pedestal Office Gaming Chair
If you're looking for a gaming chair suitable for various types of media consumption, from playing games to watching movies or simply relaxing when you're tired, this would be a great choice.
The X Rocker Pedestal chair can fit into your office or gaming room, providing comfort and better immersion with its speakers. Get lost with two speakers located near the headrest and a subwoofer massaging your back with sound.
Other Pros:
The Control panel includes separate volume and bass controls
Allows connection and audio sync with other X Rocker chairs
02. Amazon Basics Ergonomic Gaming Chair with Bluetooth Speakers and Built-in Mic
This gaming chair features comfort, speakers, and a built-in mic. The sturdy metal frame is built to have a 275-pound weight capacity. It has an integrated Bluetooth audio system that connects to an existing Bluetooth-enabled device for a convenient and theater-like sound.
The built-in mic can be controlled in the Control Panel, allowing hands-free convenience. With this gaming chair with speakers, you have the option not to wear a headset.
Other Pros:
360-degree swivel mechanism
Height and tension adjustments
BIFMA Certified for safety and durability
01. X Rocker Pro Series H3 Black Leather Vibrating Floor Video Gaming Chair
Here we have another all-purpose gaming chair with speakers. But this comes with authentic leather for maximum comfort and a premium design. It has four forward-facing speakers and extra subwoofers for a very immersive gaming experience.
The Pro Series H3 has vibration motors that sync with the bass tones in your music to produce an even more potent full-body sensation.
Other Pros:
Integrated 3.1 wireless audio system
Foldable for easy portability
Connects and syncs with multiple chairs
Immerse Your Back and Ears with the Best Gaming Chair with Speakers
Those are the top 10 gaming chairs with speakers that you can select from. With their design, build, and features, you will never experience back pain when having long gaming sessions again.
But no matter how comfortable you are, it won't be fun if you're having trouble with your gaming session. Check out our top 10 Best WiFi Mesh Systems if you wish for a better internet connection in your home.
So, which of these gaming chairs are you picking up? Tell us in the comments section below what you think about them.
Last update on 2023-09-20 / Affiliate links / Images from Amazon Product Advertising API