If you've been a Roblox gamer on Xbox One for quite a while, then you've probably encountered the Roblox Error Code 103 at some point in your life. In most cases, this is a temporary issue that almost goes away on its own. However, if this has been happening a lot, then further investigation is needed.
While Roblox receives roughly 40 million users on a daily basis, the number of affected users on Xbox One is considered a non-priority. In fact, there are plenty of other Xbox games out there that also suffer from joining game sessions. Having an enormous userbase like that can be quite taxing to the online gaming platform.
With that being said, today is all about understanding the code error 103 on Roblox and why it's one of the most annoying issues in Xbox games.
What is Roblox Error Code 103?
Roblox Error Code 103 is an issue with Xbox One users where they wouldn't be able to connect to either a specific game session or any game sessions at all! The worst part of it all, it's going to give users the code error: The Roblox game you are trying to join is currently not available (Error Code: 103).
If you are experiencing this game error, There are some solutions that the Roblox gaming community has been recommending, especially for Xbox games. Today, we're going to talk about the primary reasons and solutions, as well as security reasons that we'll try to circumnavigate.
Possible Solutions for Roblox Error Code 103
At the moment, these are the most common solutions for Xbox One users experiencing the error code 103 for Roblox. Since this is a multiplayer-based game and children are playing with you, the Roblox moderation team has implemented strict privacy settings to protect children.
Fortunately, these game settings can be tinkered with. It could be something about the carousel privacy menu, care of port forwarding or NAT forwarding, learning the guide menu, and so much more. Today, we'll dive into the ones that usually fix the issues.
Check Account Restrictions
If you can access other game sessions easily and you're only having issues with select content, then your privacy sets might be set for child safety. In many cases, being unable to join a custom game is because of the extra security layer Roblox developers have added for children.
We recommend checking the child account settings to ensure that your custom privacy preferences aren't affected. If you are part of a child account, you would need help from your parents to enable stuff in the settings menu, particularly in the privacy option.
Here's what you need to do:
Step 1
On your Xbox Home Screen, head over to My Games & Apps
Step 2
Open Settings and then Family
Step 3
Search for Child Account and choose Custom under Privacy Settings
Step 4
Enable the 'See content other people make' option. Restart your Xbox when done
Try and see if you're still having the same issues with that particular game session. If it works, congratulations! You won't have problems playing Xbox games on Roblox this time around! Next time, just check the privacy policy.
Port Forwarding (Advanced)
Port forwarding is a little tricky as it requires access to your router settings, as well as your router login credentials. Your router settings may vary from product to product, but the process is the same.
Step 1
Go to your router's login page and enter your credentials
Step 2
Search for UPnP in your router settings and make sure it's turned on
Step 3
Search for Port Forwarding and input your Xbox One's IP address in the space provided and look for TCP and UDP ports
Step 4
Input the following in its respective ports:
Xbox One
TCP: 3074
UDP: 88, 500, 3074, 3544, 4500
PC
TCP: 3074
UDP: 49152-65535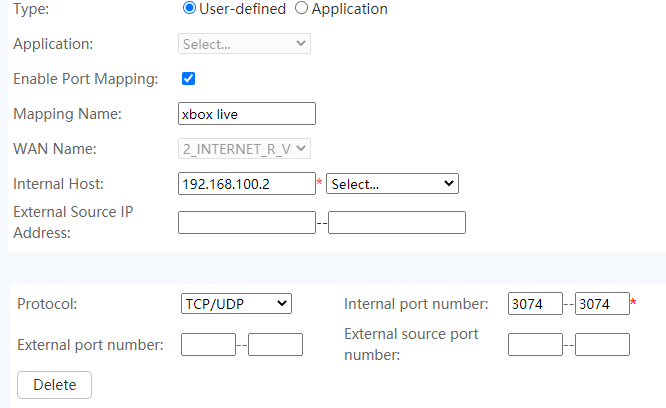 Step 5
Save settings and restart modem/router (if necessary)
Power Cycle your Modem or Router (Power cycling)
The power cycling procedure for modems and routers has been embedded in most of us because it has always been a solution to internet issues. However, if you are still new to the game or learning how to power cycle, let us show you the proper way of doing it.
Step 1
Either unplug the power cable or press the power button to turn off your modem or router.
Step 2
Wait 15-20 seconds and power your router back on.
Pro-Tip: For users who intend to change their dynamic IP address, wait 10-15 minutes before powering back on.
Step 3
Test network connection on Xbox Settings
Step 4
Test different game sessions on Roblox to see if the issue is still happening. If yes, check if this also happens in other Xbox games. If the answer is no, then proceed to the next solution.
Reinstall Game
Sometimes, deleting everything Roblox-related (except your game saves, of course) could be the solution to your problem. This can usually be caused by a firmware glitch, a corrupted game file, temporary file corruption, or even an ongoing game issue.
If you feel like you've done everything on your end, then we suggest purging your hard drive of Roblox game files — including the temp files — and reinstall everything. Need help in doing so? Here's how to do it.
Step 1
On your Xbox One home screen, go to your digital library under Games & Apps, and choose Roblox.
Step 2
Press the Start button and look for Manage Game
Step 3
Highlight and select Uninstall all. Follow the detailed steps on-screen
Step 4
Reinstall the game and join a session
If your issue is related to corrupted files, then you should be able to connect to the game functions without issues this time. Be sure to check the game's option and uncheck everything that could give your account restrictions, such as inappropriate content and more.
Pro-Tip: Be sure to check add-on and game update settings if they are automatically updated regularly.
Create New Roblox Account (18+)
While creating a new account won't really solve your problems, we can still use one troubleshooting step to figure out if your issue is caused by your internet or because of child accounts and their limitations.
We know setting up a new account that you probably won't even use can be a frustrating issue, but this is one of the best ways to check your sanity. Need help setting up a new account? We got you, fam!
Step 1
Go to the Roblox account creation page here and click on Sign Up
Step 2
Enter your personal information. To ensure the best compatibility possible, create an account that's over 18+
Step 3
Finalize your account creation and sign in to your new Roblox account
Congratulations! You finally have an unrestricted Roblox account for your Xbox games. Be warned that your online safety in terms of chat filters will be severely compromised. Play at your own risk.
Summary
Were you able to get rid of the Roblox Error Code 103 on your end? Which guide worked for you? Be sure to share your experiences in the comments section. Do you know any other solutions to avoid this annoying error code? Contact us and share your experience with us, and we'll credit you with our article!
Are you looking for more guides for Roblox? Be sure to stay tuned for more updates. In the meantime, have a look at these fantastic guides listed below.