External storage devices are very common and useful for professionals and consumers because of their ability to increase your computer's storage capability.
If you're in the market for the best external hard drive for Chromebooks, then we might have the thing for you.
Today, we'll cover some of the best external storage solutions you can use on your Chromebook. For those looking for hi-speed SD cards, be sure to look out for our future articles related to Chromebooks.
Otherwise, let's talk about the best portable drive you can get this year.
Also see: Best photo editors for Chromebook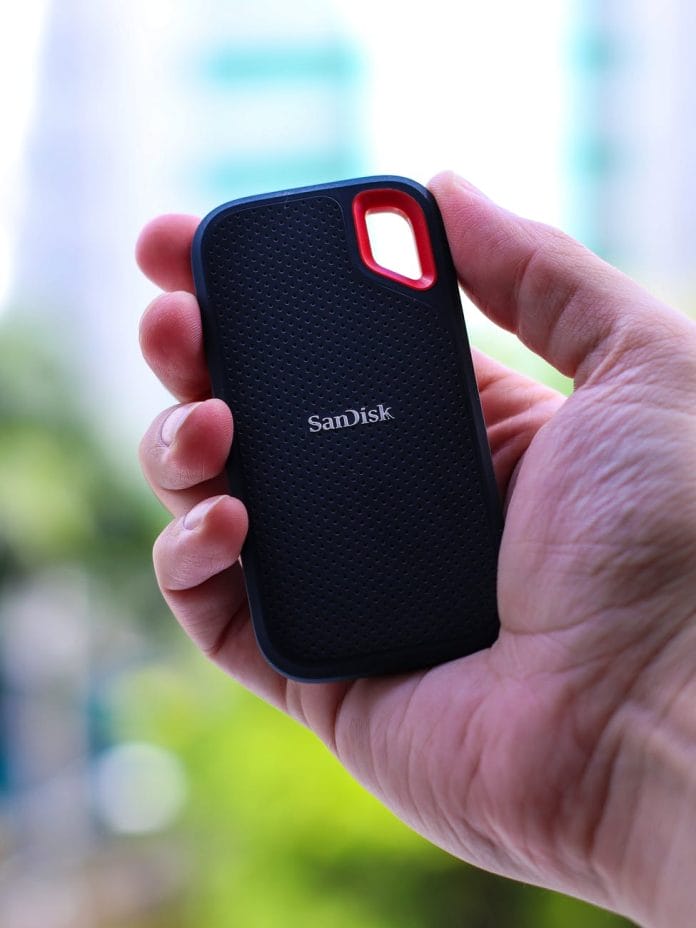 Which External Hard Drive for Chromebooks Should I Buy?
Here at GameGrinds, we want to make sure that you would already have a good idea of what product would suit your needs before leaving this page.
In this section, we're going to discuss the things you should consider before making a purchase.
Form Factor
Are you planning to use your external storage regularly? Do you see yourself moving from place to place?
If you answer yes to both of these, then you should invest in external SSDs as they have a smaller form factor (some are identical to the size of a large thumb drive).
Among the biggest advantages of using an SSD external hard drive for Chromebooks are portability, speed, and convenience.
While speed can be very subjective, portability is something that most of us can agree with, especially when we're always on the go.  
USB 2.0/3.0/3.1 vs. USB-C
The general rule of thumb in technology is newer is almost always better.
If you're using a Chromebook with USB-C ports, then we highly recommend getting a drive one for it, as the speed of the drive is more often than not much faster.
However, if you're planning on using your external storage across multiple devices, then you might want to stick to legacy USB.
The silver lining for considering USB-C external storage is if your devices are already USB-C ready.
You can confirm if have a USB-C device if your computer is relatively new. If it's 3-5 years old (or older), you might not have it unless you have a top-of-the-line rig.
Solid State Drive (SSD) vs. Hard Disk Drive (HDD)
SSDs are becoming more popular in the past 5 years because of how fast and efficient they are especially when being used to run an operating system.
HDDs have been around for quite some time, and they are slower but more reliable in the long run.
Do you need faster read/write speeds or more storage space at an affordable price?
If price isn't a factor, we recommend getting the largest SSD external drive you can buy since you'll be using it for a long time.
If you're on a tight budget, then traditional external storage options will do.
Storage Capacity
Storage capacity is probably one of the most important factors when buying an external hard drive for Chromebooks.
The more storage you have, the better. However, since SSDs cost more, you should consider the amount of space you need and how fast the transfer rates are.
SSDs have indeed gone cheaper over the past 2 years, but it's still more costly than a regular external hard drive.
What we recommend is to find the sweet spot. 120-240GB of SSD should be good enough, especially if you're planning to run apps or programs from your drive.
Also see: How to change your password on a Chromebook
5 Amazing Deals for External Hard Drive for Chromebooks
Western Digital Elements 2TB – Cheap, Reliable, and Durable
Western Digital Elements is a reliable external hard drive for Chromebooks and PCs.
It is USB 2.0 and 3.0 compatible; it has fast data transfers (with reading speeds of up to 1GB per second), and it is plug-and-play – no additional installation necessary.
It also comes with a 2-year warranty for your peace of mind.
The Good
2TB of storage at a reasonable price
2-Year limited warranty
Plug-and-play
The Bad
Slower compared to SSDs
Data cable may degrade over time
Bulky form-factor
The Verdict
For $60 bucks, you won't find a better deal if you're only focused on storage space. However, don't expect blazingly fast transfer speeds when you're moving or copying files.
If you're not worried about the speed, then this is a great buy.
One thing that users should be wary of is the durability of the data cable. We've had our shares of Western Digital external hard drives and the cables included are very annoying, especially if we've had it for more than a year.
Just be sure to take care of it when using it outside or try to buy replacement cables while you're at it.
Also consider: Seagate Portable 2TB HDD
Seagate Portable 5TB External HDD – Storage Without Compromise
The Seagate Portable External HDD is a must-have for people who watch a lot of multimedia content offline.
For $104.99, you will get up to 5TB of storage, USB 3.0 connectivity, and a 2-year warranty for data recovery.
While it doesn't come with security features, the storage alone for the price is more than enough to convince buyers.
The Good
Very good price for capacity
2-year data recovery warranty
Plug-and-play
The Bad
120MB/S rated speed
Very bulky
No additional encryption software provided
The Verdict
If 2TB of external storage is still not enough, you would love the value proposition you can get for 105 bucks – 5TB of storage!
But wait, isn't it overkill for a Chromebook? It depends on how you intend to use it.
If you have 5TB of storage, you would probably save all your Blu-ray collection into your hard drive.
On the other hand, if your Chromebook is capable of playing 4K, then you already have a portable entertainment system.
But is this going to be your main external drive for day-to-day tasks? Probably not.
Side note: Just like WD Elements, expect the data cable to deteriorate over time.
Also consider: Western Digital My Passport 5TB
ADATA SD600Q Portable SSD – A Solid SSD
The SD600Q from Adata is one of the best portable SSDs for Chromebooks that you can get at this price point.
It has a rated transfer speed of up to 440 MB/S, and it is equipped with a 3D NAND flash.
It is available in Black, Blue, and Red color options, and currently one of the cheapest SSD-based external hard drives for Chromebooks.
The Good
Faster than traditional external hard drives
Very compact and lightweight
Fall rating of up to 1.22 meters
The Bad
Uses data cable (may deteriorate over time)
Slightly slower compared to other SSDs (440MB/S transfer rate)
Some customers report thermal issues
The Verdict
If you have the option to choose between a standard HDD and an SSD, always go for the SSD.
Despite being slightly more expensive and having lesser storage capacity than the 5TB HDD, the convenience that SSDs bring will change the way you perceive "fast."
While the biggest downside is having a data cable to hook up to a USB 2.0/3.0 slot, the good news is that these cables are very easy to replace when it starts acting up.
Other than that, this is a very solid product worth checking out.
Also consider: Samsung T5 1TB
Crucial X8 1TB Portable SSD – Bang-For-The-Buck Champion
Our bang-for-the-buck champion is none other than the Crucial X8 1TB portable SSD. It is the fastest external drive for SSDs under 150 bucks and it comes packed with features.
The product comes with a 3-year limited warranty and has a protection rating of up to 7.5 feet (2 meters).
It also comes with a USB-C to USB-A adapter for older Chromebook models.
The Good
Blazingly fast! Up to 1050 MB/S transfer rate
Natively supports Chrome OS
USB-C with USB Type-A adapter
The Bad
Maximum transfer rate can only be achieved via USB-C
Thermal dissipation could be better
The Verdict
If you are looking to get the best of both worlds at a compelling price point, then the Crucial X8 is the one for you.
The ultra-fast 1TB external storage is big enough to store large files on-the-go and fast enough to not keep you waiting too long.
For the price of $124.95, the Crucial X8 is a very good external hard drive for Chromebooks because of its form factor, compatibility, and rated speed – especially when used via USB-C.
If you're looking for an all-around portable SSD, this is the best choice you can get for under 150 bucks.
Also consider: Transcend ESD350C Portable SSD
SanDisk Extreme Portable SSD – Amazon's Bestselling Portable SSD
The SanDisk Extreme Portable SSD is one of the best external storage devices you can buy in 2023. It is equipped with the newest tech, at a budget-friendly price point.
For $159.99, you will get 1TB of fast storage, 2-meter drop protection, and water and dust resistance (IP55).
Simply put, it's the toughest external storage on our list.
The Good
Uses NVME technology
Up 1050MB/S transfer speed (USB-C)
Lightweight and ultra-portable
The Bad
More expensive than Crucial X8
No USB-C to USB-A adapter included
Throttling issues when the thermal limit is reached
The Verdict
There's a reason why the SanDisk Extreme Portable SSD is Amazon's bestselling external hard drive – quality and reliability.
What makes this more expensive than Crucial's X8 portable SSD is the technology behind it – Nonvolatile Memory Express (NVME).
What makes NVME so special, you may ask? In simple terms, it's the fasts storage access and transport protocol as of today.
It's capable of read/write speeds of up to 1050MB/S which is ridiculously fast for an external hard drive for Chromebook as long as your device can support USB-C.
Also see: Five amazing printers compatible with Chromebooks
In Summary
Are you ready to decide on which one to get?
Do you now know the difference between SSDs and HDDs?
Regardless of your choice, we hope that you were able to decide which is the best external hard drive for Chromebooks.
Because at the end of the day, you're the one who's going to use it regularly.
In the meantime, if you're also shopping for Chromebook hard cases, be sure to check out our product roundup for that.
Last update on 2023-09-27 / Affiliate links / Images from Amazon Product Advertising API