Get yourself some free crates and cash with our Da Hood codes! Ever wonder what's it like to live in the hood? Well, play Da Hood.
It basically simulates life in the not-most-friendly neighborhood and puts you in the middle of all the action, where you get to choose what kind of citizen you'll be.
So, are you gonna serve the law and become a police officer? If you have a strong sense of justice and want to catch bad guys, then this will be perfect for you.
Or, maybe you want some thrill and rule-breaking. If that's the case, you can be a narc who does all sorts of crime.
Either way, you'll have to grind and work hard no matter which path you choose. But luckily, we're here to save a lot of your precious time and effort.
With our Da Hood codes, you can get the most out of your gameplay no matter your side.
Simply redeem them and use them while you still can to get ahead of your nemesis. Whether you're an honorable cop or a notorious criminal, our Da Hood codes will be extremely useful for you.
Also Read:
Da Hood Codes List
Active Codes
These codes are redeemable and working:
CHALLENGES—Redeem for 500k Cash (New)
MELONBEAR—Redeem for 500,000 Da Hood Cash
DAUP—Redeem for 250k Cash
2023JULY4—Redeem for 500k Cash
DHSUMMER – 200k cash
Expired Codes
These codes are no longer working:
FIREWORKS—Redeem for 500k Cash
POOLPARTY – 250,000 cash
SUMMER2023! – 500k cash
TRADING – 250k cash
HAPPYHALLOWEEN!—Redeem for Halloween AR and 10k Da Hood Cash
WASHINGMACHINE—Redeem for 100k Da Hood Cash, 7 Premium Crates, and 2 Random Marker Knife Skins
BACK2SCHOOL—Redeem for Exclusive Back to School Marker, x2 Crates and Da Hood Cash
ACCOMPLISHMENT—Redeem for 200k Da Hood Cash, 5 Premium Crates, and 5 Knife Crates
AUGUST2022!—Redeem for Knife Skin Crates and Da Hood Cash
DHSUPRISE!—Redeem for 50k Cash, 10 Crates, and 8 Premium Crates
#FREED—Redeem for 50k Da Hood Cash
2022JUNE—Redeem for several Crate Rolls
June2022—Redeem for 250k DHC, 3 Premium Crates, and 5 Regular Crates
FIREWORKS—Redeem for 100k Da Hood Cash, 5x Premium Crates, 5x DHC Crates, 5x Fireworks
freepremiumcrate—Redeem for a premium crate roll
easterdahood—Redeem for a free crate roll
Stars
DHUpdate
How to redeem Da Hood Codes?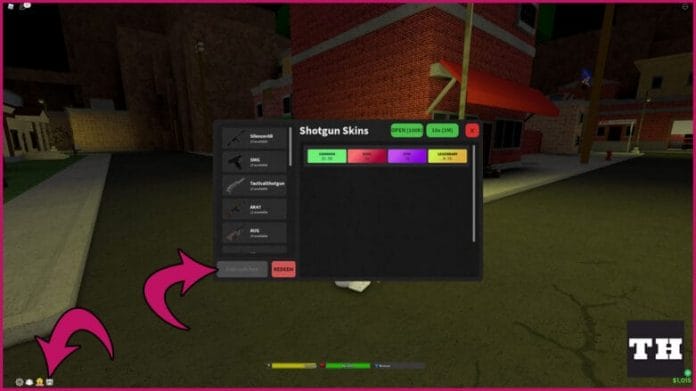 It's simple and easy to get your hands on freebies by redeeming these codes. Here are the steps you have to follow:
Open Roblox and Launch Da Hood
Go to the icons located at the bottom-left of your screen
Click on the one at the right-hand side
Type in or paste the codes
Press Redeem
Enjoy your rewards
Da Hood Frequently Asked Questions
When will new Da Hood codes come out?
These codes usually come and go, so you have to use them while you still have the chance. These codes can only be produced and removed by the game's creator, so GameGrinds cannot give you new ones.
But what we can do is update this article as soon as new codes get released. So make sure you often visit for new codes.
What are Da Hood codes?
Da Hood codes are redeemable codes for the Roblox game Da Hood. By using these codes, you can get useful freebies such as crates and cash.
Which will help you progress through the game faster and with more ease.
However, no one else but the developer of the game can add and remove these codes. But everyone who plays the game can use them, given they know how.
What is Da Hood all about?
Da Hood is a Roblox game that is set in a ghetto neighborhood. Though the name doesn't have "simulator" in it.
The game definitely simulates what living in the hood is like. Crimes, robbery, cops, and all sorts of stuff one might expect.
You can choose where you want to side and what path you'll take- a criminal or a cop.
How to play Da Hood?
How to play Da Hood?
If you want to experience Da Hood, you can play the game by heading to Roblox's site and searching for Da Hood in the game directory.
But it would be easier if you went directly to Da Hood's direct game page.
Conclusion
Well, there you have it. Everything you need to start redeeming our Da Hood codes. So get out there and start claiming your freebies!
Better hurry, though, because these codes won't last forever. And be sure to bookmark this page so you can frequently check when new codes come out.
Meanwhile, you can also check out other awesome codes like MeepCity Codes, Welcome to Bloxburg Codes, RoCitizens Codes, and more in our ROBLOX GAME CODES section.
Or you can also comment down below your favorite Roblox game so that we can look for their secret codes as well.