Looking for the best cute Minecraft Texture packs for your game?
One approach to giving Minecraft the impression of being contemporary and engaging is via texture packs and shaders. It's understandable why numerous players download texture packs as well as shader packs to liven up the game and keep the allure since players typically have to wait for ages between new updates and can easily experience everything the game has to offer in the vanilla version.
With regard to Minecraft's texture packs, the "cute" theme, in general, is one of the more likely choices.
Top 5 Cute Minecraft Texture Packs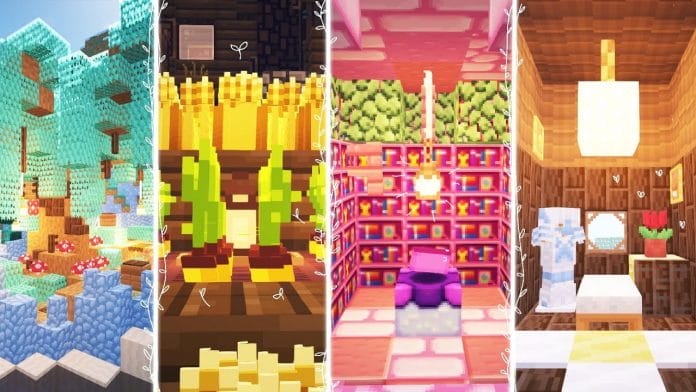 These cute Minecraft texture packs are certain to delight any player with a fondness for all things sweet, whether it's with the adorable, cartoon-like, simple, bright textures or simply a candy-themed pink makeover that brightens up everything.
1. Dandelion X
Dandelion X, a texture pack that sustains the aesthetic graphics of Minecraft while also totally changing and improving it, is characterized as being cute yet also mysterious and magical.
It's the ideal combination that transforms Minecraft's blocky, desolate appearance into something lively and aesthetically satisfying.
Dandelion X is cute because it upholds the game's core principles while maintaining a soft, enchanting visual style. It might not be everyone's pastel pink fantasy, but it's perfect for those who like their Minecraft to be a vibrant explosion of color and mystique.
2. PastelCraft
PastelCraft offers a cute, yet not exaggerated, experience. As the names imply, the hues tend to be more pastel, although they are by no means strange. Despite possessing a more cute appearance, the bulk of the textures are still fairly recognizable.
PastelCraft's ability to alter the appearance of paintings is one of its best features. After a while, Minecraft's artwork can become a little monotonous, so using a texture pack to tweak its appearance is a nice contrast.
In addition, the textures of the glazed terracotta have been somewhat modified.
3. Kawaii World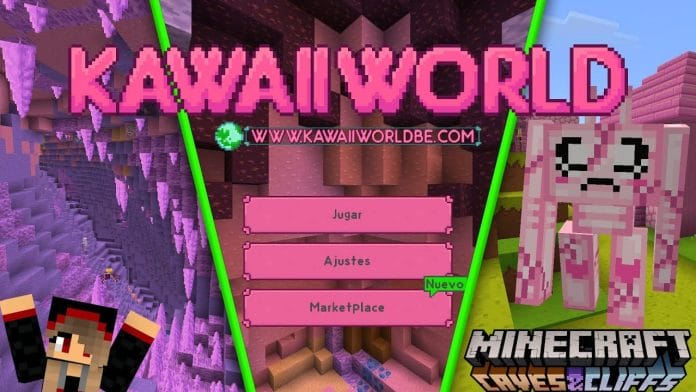 There is little doubt that Kawaii World fulfills what its name pledges with its pink snow, cute items, and villagers that resemble characters from anime. Expect to see vibrant pink, purple, and magenta in a variety of tones because the colors in this texture pack are not quite as pastel and bright as some of the others.
The world is distorted by this texture pack, from the original blocks to armor, stations, mobs, and ores.
The game's unique look might require some getting used to, but for players desiring a wonderfully pink and adorable experience, it will be well worth the try.
4. Pastel Hotbar
This texture pack emphasizes one key area of Minecraft's artistic design, the UI, even though it doesn't modify every aspect of the game as a whole. Due to the fact that interfaces are not often affected by texture packs, having a unique mod for the hotbar can augment how the game feels.
This pastel hotbar blends exquisitely with cute pink texture packs. It modifies the hotbar's default colors just as it promises to do.
The XP bar has a wonderful iridescent rainbow color, while the armor meter is pink. The highlight of this pack is the hunger meter, which is now composed of adorable strawberry-shaped pixels.
5. TooniVerse
The use of Tooniverse is undoubtedly recommended for those who truly wish to embrace a cartoon look in all its toony grandeur. With the help of this texture pack, gamers may have a completely new Minecraft experience that seems just as charming as it does brand new and refreshing.
Each texture in this pack is beautifully crafted, features brilliant colors and cel-shading to add an extra splash of style, and mirrors how much time and effort Daft-Vader spent creating it.
The mobs and villagers, who stand out due to their lovely expressions, absolutely steal the show in this texture pack, even though everything looks wonderful.
Conclusion
Those are the 5 best cute Minecraft Texture Packs we can offer you so far. If you want something new to bring color and make your game more adorable, these downloads will surely amp up the game's cuteness to a whole new level making vanilla Minecraft pale in comparison.
More Minecraft Guides:
Whether you're a beginner Minecraft player or a seasoned veteran looking for something new to try, GameGrinds is a gold mine when it comes to topics like these. So make sure to leave a comment down below if you have any questions.