If you're a fan of Counter-Strike or FPS games, you might want to try playing Counter Blox.
And if you want the experience to be better, then you should use these Counter Blox Codes that you can redeem to get free funds or cases that you can use to get skins.
Counter Blox's gameplay is similar to the classic FPS. You'll be able to choose between two factions which are Counter Terrorists or Terrorists.
The latter's role is to plant the bomb, while the former must defuse it. It also has a variety of maps that you can choose from, so you won't be stuck playing in the same place.
The game was developed ROLVe Community, based on Valve's 2012 Counter Strike: Global Offensive, and they release Counter Blox Codes from time to time that you can use to get free rewards such as skins to decorate your favorite guns and knives.
Check out these other Roblox Game Codes:
Counter Blox Codes List
Active Codes
There are no working Counter Blox Codes at the moment. We will update this article once new codes arrive. Check back soon!
Expired Codes
These codes are no longer working:
CBXMASUP8DELAY
BESTOFCB
ILOVECB
GOODTIMES
HOT
SPOOK
holiday18
bloxy
How To Activate Counter Blox Codes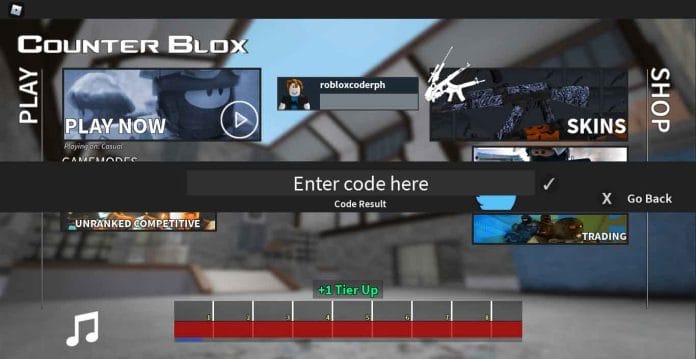 To redeem Counter Blox Codes, you just need to open the game and click the codes button on the right side of the main menu.
Copy and paste the code that you've chosen and click the check button to redeem your reward.
Conclusion
Despite the game not having a balanced matchmaking system, and doesn't exactly have a lobby since you can't change servers or rooms.
Unless you restart the entire game, Counter Blox has a team-balancing system in place so that it's harder for players to all join a side. Leaving the other team with only a few players who are getting completely decimated.
You can check more from your favorite Roblox game codes, see Roblox Game Codes Compilation.
One good thing also is that there is no required grinding in this game for you to win, as you only need skills and teamwork to dominate the opponents.
And with the help of these Counter Blox Codes, you can own enemies with cooler-looking weapons by the use of skins made by community members.