The act of homeschooling is where a person learns everything and anything that they would typically learn when they go to school. In a sense, they don't need to go to school because they can have a certified teacher or instructor come to their house and give them what they need.
This isn't anything new, and some children and even adults have had homeschooling since the early days.
Nowadays, because of the pandemic, a lot of schools are implementing homeschooling. It is just safer to learn at home than going to school, at least for the time being.
That being said, when you go for such a thing, you need to have the best Chromebooks for homeschooling. That way, you can learn and even use it when school isn't in session.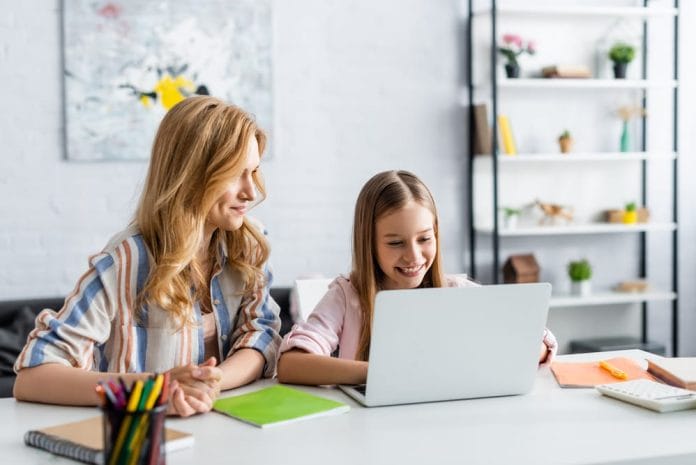 Also read:10 Best Chromebook With Backlit Keyboard
Questions About Chromebooks for homeschooling
Is a Chromebook good for homeschooling?
First of all, if you only need apps and programs for basic schooling, then that should be fine. We're talking about programs for writing documents, web surfing apps, and basic editor apps. The answer is that a Chromebook can be good for homeschooling because these kinds of apps don't really need a lot of processing power.
If your homeschooling needs a more powerful processing unit, then a Chromebook may not be ideal. Then again, this is only for those that use apps and programs for some advanced progress. You could think about those IT students that would be homeschooling where they normally use a desktop for that.
Can you do online school on a Chromebook?
The answer is yes, and part of the reasons are already stated above. A Chromebook isn't a very old laptop or computer, and it is capable of accessing the internet. There are also some models that have a built-in camera perfect for communicating with the teachers and other students. Plus, where you're done reading our list of the best Chromebooks for homeschooling, you can get a good idea of which ones to buy.
A list of the best Chromebooks for homeschooling
01) Dell Ispirion 2 in 1
We'll start with something basic and good. The price on this unit sits around the $500 mark, so that's a good start. It has the basic Chrome OS capable of running the programs that you need for homeschooling. It is also light and can flip the screen to the back, and has touchscreen features. If you also need to, it has stylus support and can separate into a tablet.

02) Samsung 11.6 Chromebook
This unit is very affordable, which sits around $200 to $300 depending on the condition. It has an 11.6-inch display hence the name and a resolution of 1366×768. It has a built-in webcam perfect for those online tutorials and discussions. It isn't as powerful as the other best Chromebooks for homeschooling on this list, but it is perfect if your own a budget and ideal for the kids that are of a lower grade.
03) Lenovo Yoga C630
The Lenovo Yoga C630 is a popular unit right now for all sorts of use, and that includes homeschooling. This thing is somewhat pricey, but you get quality for the money that you pay. The specs alone are more than enough with an 8th Gen Intel Core i5-8250U and Quad-Core Processor. The built-in Intel UHD Graphics 620 and 128GB MicroSD Card is not to mention. It also has a 15.6-inch display, and the battery can last up to 10 hours which is perfect for your school sessions.
04) Acer Chromebook Spin 13
This is a good unit to buy under the Acer Chromebook Spin line. It has a built-in webcam and a decent storage space for your files in school and others. It runs on an updated Chrome OS capable of running numerous apps and programs for your needs. It can also spin the monitor and has a touchscreen feature along with an LED backlit keyboard. This is perfect for long sessions as the battery can last up to more than 10 hours.
05) Lenovo Chromebook Flex 5
This model has a 13-inch display with a 1920×1080 max resolution. It is big but is light to handle and can be turned into a tablet or laptop when needed. It has a built-in webcam and numerous USB ports, and a headphone jack to boot. It supports touchscreen features, and a stylus pen can be bought and used separately. It has a good enough processing power for your apps and programs needed for homeschooling and more.
06) ASUS Chromebook Flip C434
You can't have a list without the ASUS Chromebook Flip C434. There are other ASUS Chromebook Flip models or numbers, but the C434 is ideal for your homeschooling needs. Despite its appearance, it is very durable, and you can carry it anywhere because it is also very light. It has a 14-inch display, and the screen can be bent all the way to the back. It also runs on Chrome OS, allowing you to keep track of your files on Google, and you can save them offline in the Flip's 64GB storage.
07) HP Chromebook 14
We'll finish with something simple and affordable but very effective and useful for homeschooling. The HP Chromebook 14 has a 14-inch display and can spin the monitor up to 180 degrees. Despite the size, the unit is light and just right in terms of its durability. It can last up to 10 hours when you want to use it and can come with a 100GB cloud storage package if the deal is still available upon purchase.
In closing
These are just a few of the best Chromebooks available for homeschooling. If money isn't an issue, you can invest in better units, possibly even a desktop computer, to make the student more comfortable. Nonetheless, these units may be sufficient for your requirements.
Last update on 2023-09-21 / Affiliate links / Images from Amazon Product Advertising API