One of the biggest challenges when moving is trying to find the best WiFi 6 routers for gamers in large homes.
A decade ago, the only way to do this is to use ethernet cables from point to point. Today, all we need is reliable hardware.
Join us in our journey to find the best option for your household when it comes to wireless freedom.
Contrary to popular belief, you don't need to spend upwards of 500 bucks to get a quality network. With our help, you might find one of the best gaming routers out there.
Wi-Fi 6 in a Nutshell
While previous-gen Wi-Fi technology provides solid performance, some people might find the technology found in Wi-Fi 6 and 6E to be very promising, especially for local area networks (LAN).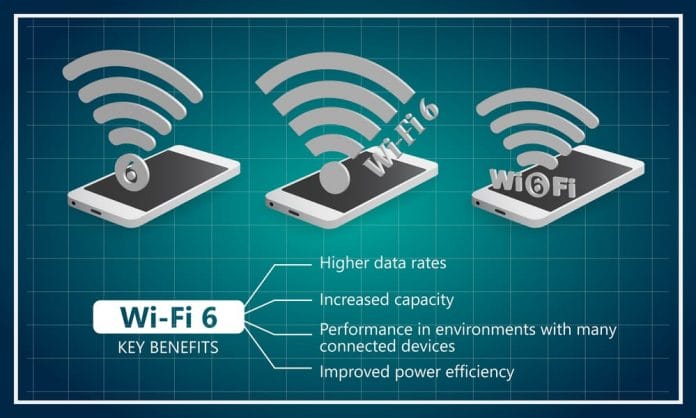 This is a game-changer for people hoping to free themselves from ethernet cables!
From far superior and helpful networking features to beautiful and compact design implementations, there are plenty of benefits to making the switch.
In fact, here are some amazing benefits listed below:
Benefits of Wi-Fi 6 Client vs Wi-Fi 5
| | |
| --- | --- |
| Wi-Fi 5 and Previous Gen. Tech | Wi-Fi 6, Wi-Fi 6E |
| Standard Network Security Features | Advanced Security Features and Advanced Network Security |
| Wireless Networking Standard | Real-World Speed (speed of data transfer) |
| Limited Mesh Setup | Robust Mesh Wi-Fi System Integration |
| Standard Dual-Band Routers Frequency Band | Simultaneous Frequency Band (2.4 and 5GHz band working together) |
| Limited to 2.4GHz or 5GHz Bands | Wi-Fi 6E with 6GHz Band |
| Limited Multi-User Input Support | Superior Multi-User, Multiple Input, Multiple Outputs (MU-MIMO) |
| Wide Coverage but With Limited Speed Transfer | Reliable Performance for Larger Homes |
| Decent Coverage and Signal Quality | Strong Wi-Fi Signal and Seamless Connectivity |
| Can only accommodate a set amount of connected devices | Capable of handling more connected devices without sacrificing quality |
| QoS settings may vary | Plenty of gaming features are included as well as other QoS features |
These are the best and most reliable Wi-Fi performance offered by top-of-the-line products.
Now that we have a general idea of the differences between the old and new tech, it's time to decide whether dual-band WiFi 6 routers, as well as tri-band Wi-Fi 6 routers, are good enough for you.
6 Best WiFi 6 Routers for Gamers on Amazon
When it comes to new technology, there are always people who are willing to wait until it becomes mainstream enough.
Fortunately for people who are looking for a router for gaming in 2023, the time is now.
In this section, we're going to talk about the bestselling routers on Amazon. These devices are all suitable for large homes and above-average wireless networking standards to ensure that you're getting your money's worth.
Let's see all our options:
TP-LINK Archer AX80 Wi-Fi 6
Key Features:
Affordable Wi-Fi 6 gaming router
USB ports
Amazing wireless coverage
Dual-band
For the budget conscious in mind, the TP-LINK Archer AX80 is a great entry-level gaming router for large homes as it provides the bare essentials for a reliable network.
It has a 2.5 Gbps multi-gigabit port to ensure you get every kilobit of speed from your ISP without any bottleneck.
It also has excellent MU-MIMO capability despite being below 200 bucks. This gives plenty of users the ability to connect multiple devices with very low latency.
Plus, when you're finally ready to expand your network, the TP-Link OneMesh capability is a lifesaver!
All in all, if you're quite hesitant to throw more than $200 for a decent gaming Wi-Fi 6 router for large homes, then the TP-LINK Archer AX80 is the perfect compromise for features, as well as functionality.
TP-LINK AX6600 Wi-Fi 6
Key Features:
Works with smart home devices (Alexa)
Excellent performance MU-MIMO
TP-Link OneMesh capability
TP-Link HomeShield
The Archer GX90 is arguably among the best WiFi 6 routers for gamers due to its amazing QoS settings and Tri-Band functionality.
It has a feature called "Game Band" that used all the bands to provide up to 4.8Gbps of transfer speed locally.
Another notable feature is the game accelerator where the router itself can detect your network traffic and optimize the network in real-time.
Thanks to its connectivity features, you won't have any problems establishing your network from scratch.
For less than $230 bucks, the Archer GX90 is a great investment for large homes because of its amazing coverage and reliable network performance.
It's safe to say that this product has checked all our boxes from start to finish.
ASUS RT-AX86U Wi-Fi 6 Dual-Band
Key Features:
Transfer rates of up to 5700 Mbps
Mobile game mode QoS
ASUS router app
ASUS AiMesh compatible
The ASUS RT AX86U is a reliable gaming router capable of delivering amazing performance at a reasonable price point.
One of the biggest selling points of this gaming router is its true-to-life wired and wireless speeds of up to 2 Gbps. It also boasts amazing security features with AiProtection Pro.
But is it worth buying despite being dual-band?
While it's true that 300 bucks are nowhere cheap when compared with other gaming tri-band routers, this dual-band Wi-Fi 6 router can handle its own thanks to features that are far more extensive and beneficial.
If you're willing to spend a little more for fewer hardware features (opting for dual-band instead of tri-band), then you should definitely consider the AX5700 from ASUS.
This Wi-Fi 6 router is perfect for mobile gamers and is highly expandable thanks to AiMesh.
NETGEAR Nighthawk MK83 Wi-Fi 6
Key Features:
Amazing coverage (6,750 square feet)
Can connect up to 40 devices simultaneously
Ease of setup thanks to the Nighthawk App
Comes with 3 Wi-Fi 6 mesh kits
The MK83 from NETGEAR is undoubtedly one of the best tri-band gaming routers for large homes as it offers amazing coverage right out of the box.
It's also one of the easiest to setup thanks to the Nighthawk App.
In fact, one of the best features of this tri-band router is the ability to tinker with settings without the need to actually learn networking.
All you need is to follow the on-screen instructions and test your internet. Not satisfied with the result? Keep tinkering until you get the one you want.
While it may not be as affordable as the other offerings, what the Nighthawk MK83 can guarantee is the best coverage for the price point without sacrificing quality.
ASUS ROG Rapture GT-AX6000 Wi-Fi 6
Key Features:
Dual 2.5 Gbps gigabit ports
Up to 6000 Mbps speed with 160 Mhz channels
Expandable via AiMesh
Mobile gaming mode features
ASUS has made a name for itself in terms of network reliability thanks to its first line of gaming routers.
Today, the Rapture GT-AX6000 is continuing the tradition by providing quality hardware at a premium price.
While the Rapture GT-AX6000 might be a hard sell for some due to its dual-band capability, there are plenty of reasons to love this gaming router.
Despite all that, however, this is one of Amazon's bestselling gaming routers.
For one, it's powered by a quad-core CPU, just like its big brother, and it's capable of minimizing lag for mobile games with QoS.
If you're looking for one of the best Wi-Fi 6 routers for gamers in large homes, then the ROG Rapture is really worth considering despite a hefty price tag and dual-band support ($329.99).
ASUS ROG Rapture GT-AX11000 Wi-Fi 6
Key Features:
Router powered by a 1.8GHz Quad-Core CPU
2.5Gbps Ethernet Port
Powered by ASUS AiMesh
Triple-Level game acceleration
The ASUS ROG Rapture is a tri-band gaming router that is built to impress.
At a hefty price tag of $429, it's safe to say that ASUS is not playing around with its features and specifications.
The best features of the Rapture include port forwarding, tri-band networking, advanced QoS settings, and Mesh Wi-Fi capability.
If these are something you need and it is within the price point, then look no further than the GT-AX11000.
While the price tag isn't for everybody, do remember that these are features that can really change your entire home network experience.
This is a zero-compromise router and it's perfect for large homes.
Also See: The Best Wi-Fi 6 Routers with Tri-Band
Frequently Asked Questions (FAQs) about Wi-Fi 6 Routers
We always want our readers to understand the nature of these new features and protocols before making an informed decision.
With that in mind, here are the most common questions around:
I'm using a standard router, but I don't think I need Wi-Fi 6. Do I still need to upgrade?
Honestly speaking, ANYTHING from 2015 onwards is considered a worthy upgrade over your ISP-issued modem/router.
Even if these units have dual-band support, the network is not as reliable as true routers.
However, here's the kicker: If you're planning to upgrade to anything than Wi-Fi 6, then you're losing performance per dollar because of how competitive the market is for affordable routers with Wi-Fi 6 or Wi-Fi 6E capabilities.
We recommend upgrading to the latest one that you can actually afford.
Do I need Wi-Fi 6 if I'm always using Ethernet ports anyway?
Even if you're using wired gigabit Ethernet, the bottleneck can occur for your wireless devices such as smartphones, laptops, and tablets.
Today's gaming devices heavily rely on LAN to stream seamlessly. This is why people are upgrading their mesh systems.
One of the biggest reasons a lot of gamers stick to cables is to avoid issues with gaming performance.
However, this gap is getting more and more invisible because of how wireless networking has improved.
Are all gaming routers Wi-Fi 6?
It's safe to say that most routers after 2020 are all equipped with the new protocol.
However, if you are shopping for clearance items, your safest bet is to check the product specifications to ensure you're actually going to benefit from it.
How can Wi-Fi 6 help with network congestion?
One of the biggest selling points of this protocol is the ability to seamlessly work with the available frequency bands.
However, this can only work if all your devices are Wi-Fi 6 or Wi-Fi 6E ready.
If all the requirements are met, then you can expect very minimal issues with network congestion.
Another unique feature of these modern routers is you can track your network activity in real time, even your gaming traffic!
WiFi 6 Routers for Gamers – A Better Network For All
Have you decided on which are the best WiFi 6 routers for gamers in large homes?
We hope that this article was able to help you narrow down your options for your next home upgrade.
We're fairly confident about the options we have presented.
How about you? When do you upgrade your home network? Are you still part of the Gigabit Ethernet cable gang?
Do you feel like jumping from one wireless protocol to the next is unnecessary for the greater majority of users?
Do share your thoughts in the comments section below.
Last update on 2023-09-27 / Affiliate links / Images from Amazon Product Advertising API