The Google Chromebook is an interesting piece of machinery. It is stronger than a mobile device and a computer tablet. However, it isn't as strong as some laptops and definitely nowhere near a PC. However, there is a market for this because the Chromebook has a lot of uses in other fields. It isn't for heavy-duty gaming but it does have its place. That's why here is a list of the 10 best touchscreen Chromebook that you can get.
That's right, the Chromebook while it looks like a laptop has the touchscreen feature. In fact, some models have the capability to detach the screen from the keyboard.
Basically, it functions like a tablet but slightly better in a lot of aspects. In this list, we'll give you why these models are the best ones in all the fields that they can cover from the price to the utility.
10 Best Touchscreen Chromebook You Can Buy
01) HP Chromebook 14
The HP Chromebook 14 is a perfect balance of pretty much everything. It has touchscreen features and the specs are really good. It can play games of a certain level and it also has enough battery life to last up until 10 hours or more. The price as well is just right for a Chromebook if you don't want to spend too much money.
02) Google Pixel Book Go
This one is very good because it can be as powerful as other laptops. It also maintains the slim look like most Chromebooks have. It is easy to carry around and the monitor can be bent to the back giving it the tent mode like a lot of Chromebooks have. The only downside to this unit is that it can cost a lot of money presumably around $1,000 but the power is definitely worth the money.
03) Acer Chromebook 314
This unit is very affordable and enough to get you by with what you need. It isn't that bulky and the specs can be very standard. It may not be as powerful as some units but with a good memory space and having decent utility can be good for you to buy an Acer Chromebook 314.
04) Samsung Chromebook Plus V2
The price of this unit is slightly higher than any regular Chromebook but it isn't that high. The slight difference in price is worth it because it is a bit more powerful. It is able to bend and is incredibly durable even with its slim design. It also has its own stylus pen that you can use because the unit definitely has a touch screen feature.
05) Asus Chromebook Flip C434TA- DSM4T
This one is worthy of being on our list of the 10 best touchscreen Chromebook. Taking a look at the image, the unit has the capabilities to bend all the way to the back. It is also slightly a bit more powerful than other units but it does cost a bit more which is fine. It has a higher level when it comes to how strong its processing power really is.
06) Lenovo Chromebook S340
There are multiple versions of this unit and the S340 has the perfect balance of everything. It is good enough for you to use and you don't need to spend a lot of money on it. The other models cost a bit more but this one is good for you when you're on a budget but would still want a good touch screen Chromebook that you can use.
07) Acer Chromebook Spin 15
The Spin 11 can spin or bend all the way to the back. It has a slim model and is very durable and withstand a lot of abuse but don't damage it on purpose. It has good specs, sufficient power, and others. The unit can last up to 10 hours and more as well as a good touchscreen feature that you would want.
08) Google Pixel Slate
This unit is a bit pricey but it has the features that you want. It is able to bend and it comes with a stylus pen that you can use to avoid scratching your screen. The monitor can also be detached from the keyboard in case you want to just use the monitor which has the touch screen feature.
09) Lenovo 2020 2-in-1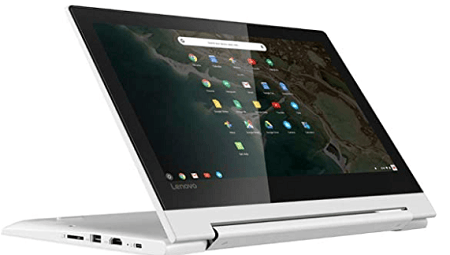 The 2-in-1 allows this unit to be used for laptop capabilities and being a tablet at the same time. It can be a bit powerful in terms of its processing strength. The price is higher than other Chromebooks but that doesn't mean that it is not worth the price. It can be good for your needs and worthy of being in our list of the 10 best touchscreen Chromebook you can buy.
10) HP Chromebook x360
It has the name 360 because this Chromebook can bend around 360 degrees. The price is slightly higher and can have an 8GB memory and a 14-inch screen. This one is priced slightly higher but again you're getting a lot of features from it compared to other Chromebooks that can be of the same price or even higher.
In closing
Now that you know the best touchscreen Chromebook that you can buy, you may want to fix your budget and buy a unit that will cover your needs.