One of the best things that a gamer needs to experience in PC gaming is quality cans. such as open-back headphones.
Yes, you've heard it right. It's time to know about 6 of the best open back headphones for gaming in 2023!
Say hello to a new level of comfort and audio clarity with these devices!
If you have been living under a tree, let us tell you why you need to know about open-back headphones. For those playing CS: GO or Valorant, open-back headphones are definitely a game-changer!
You can hear footsteps more accurately, down to every detail within their natural dynamics, and more importantly, listen the way it was intended to.
You might ask, what's the difference between the one you're currently using?
If you are used to wearing closed-back headphones, let us give you more information about the qualities of open-back gaming headphones.
Closed-Back Headphones vs The Best Open Back Headphones for Gaming – What's the Difference?
Let's not talk about angled drivers or the difference between magnetic drivers and dynamic drivers. Instead let's discuss about detailed sound.
For most casual gamers, a pair of headphones is JUST a pair of headphones.
However, once you start exploring the sound quality of different types of headphones—from the bass response to the overall aural experience, that's when you begin to wonder about closed-back headphones and open-back designs.
Here are some quick details we can share between open-back and closed-back headphones:
Closed-Back Headphones
Closed-back headphones most common type of gaming headphones.
These pairs of headphones seal the sound, giving you the in-your-face type of sound quality, paired with some punchy and deep bass response at a more affordable price.
However, just like with anything in life, expect better sound design as you spend more.
Examples:
Open-Back Headphones
While not uncommon in 2023, these headphones are usually used in recording studios and music rooms.
However, thanks to the immersive soundstage and a more balanced sound, gamers are finally starting to notice the potential of one of the best open back headphones for gaming.
Examples:
Gaming Headsets (Closed and both Semi-Open and Open-Back Headsets)
For most people who can't afford the full audio setup (studio monitor speakers, headphones, studio microphone, and audio interface), gaming headsets are what we call the mid-range budget option.
These headsets aim to provide the best of both worlds depending on your budget.
If you don't have enough space, or you're not really into high-fidelity audio when gaming, these are the ones to get.
Examples: SteelSeries Arctis Models, Kingston HyperX Cloud, EPOS x Sennheiser GSP 500
When it comes to pure gaming experience alone, having a great pair of open-back headphones is a real game-changer.
But if you are looking for incredible sound without breaking the bank, you will surely love the options we have below!
Amazon's Best Open Back Headphones for Gaming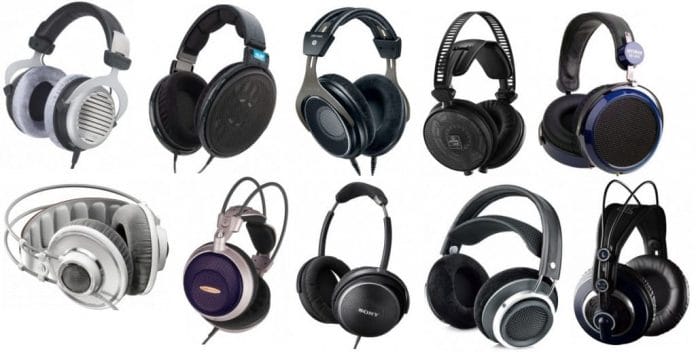 Now it's time for the main event! Please note that there's no particular order with our product recommendations.
Our guarantee is that all of the best open back headphones for gaming are available on Amazon today, and any of these offerings will give you a great upgrade from basic closed-back headsets.
Samson SR850 (Semi Open-Back Headphones)
Key highlights
Affordable
Impressive soundstage for the price
Decent treble responses
The Samson SR850 is what we would call the "gateway drug for open-back headphones."
It's super affordable, has a great audio output for the price, and is made for critical listening.
In fact, these pair of semi open-back models are a fantastic choice for audio enthusiasts, musicians, and content creators.
Sure, it may sound pale in comparison with a pair of audiophile headphones, but it can stand on its own.
There's a reason why even after a decade, this pair of quality headphones is still being recommended. One standout feature of the SR850 headphones is their impressive frequency response range.
With a range of 10Hz to 30kHz, these headphones capture a wide spectrum of audio frequencies, delivering rich and detailed sound reproduction.
Audio-Technica ATH-AD700X
Key highlights
53mm drivers with great sound clarity
Amazing transient response
Self-adjusting headband
The ATH-AD700X is one of the most commonly recommended pairs of headphones thanks to their open-back design and exceptional audio performance.
These headphones offer a captivating listening experience that combines detailed sound reproduction with an expansive soundstage.
It is also our personal go-to pair of cans when we want to do some critical listening and FPS gaming.
While most people would not consider this as a pair of gaming headphones, these headphones' large 53mm drivers deliver a wide frequency response and precise audio reproduction across the entire spectrum.
This feature allows you to hear subtle details in your music or immersive sound effects in games, elevating your overall listening experience to another level!
EPOS Audio H6PRO
Key highlights
Semi-open-back design
Built-in mic with noise canceling
Lightweight and comfortable
Remarkable soundstage
The H6PRO is another best open-back gaming headset worth noting for its superb audio and expansive soundstage that blows similarly priced gaming headsets out of the water.
Despite being marketed as a gaming headset, this headset focuses its quality on sound accuracy.
The headphones are engineered with high-resolution neodymium drivers that reproduce audio with exceptional clarity and fidelity at a reasonable price.
If you're looking for something outside the usual brands of Beyerdynamics and Audio-Technica, then EPOS audio is something worth considering.
While still relatively new in the industry (formerly known as Sennheiser Communication), this new company is aims to produce more gaming-related peripherals.
Audio-Technica ATH-GDL3
Key highlights
Spacious sound reproduction
Lightweight design
Open-back gaming headphones (with built-in microphone)
The Audio-Technica ATH-GDL3BK is what we call the perfect compromise. This pair of gaming headphones come with large-diameter 45mm drivers to produce crisp and superb sound effects that only quality pairs can deliver.
These headphones also come with a noise-canceling mic, which is perfect for blocking out sound leakage.
While its soundstage capabilities are not as expansive as the other ones in our lineup, the convenience of having great sound output mixed with a decent mic for noise isolation is always an excellent choice for buying your first pair.
Simply put, if you're ready to move on from closed-back headphones and your built-in boom mic, Audio-Technica ATH-GDL3 is one of the best open back gaming headphones this 2023!
Beyerdynamic DT 990 Pro (80 ohms)
Key highlights
Accurate frequency response
Wide soundstage with amazing sound quality
Ultra versatile (perfect for mixing, mastering, listening sessions, gaming, and entertainment)
Comfortable even if used over extended periods
If you're willing to spend around $150 on a decent pair of audiophile headphones, then we highly recommend the Beyerdynamic DT 990 Pro.
The open-back design of the DT 990 PRO allows air and sound to pass through the ear cups, resulting in a natural and expansive soundstage.
This design feature enhances the sense of depth and width in the audio, making the listening experience more engaging and realistic.
The downside…
DT 990 Pro lacks a boom mic or a noise-canceling microphone, but it makes up for its comfort factor, airy soundstage, and more-than-capable bass ranges that sound just about right.
If a breathable design is also something you're considering, then this is the most comfortable pair of headphones you can buy.
Pro-tip: If you're going to use your computer, be sure to buy the 80-ohm variant as you would need an amplifier or an audio interface for the 250-ohm variant (sold separately).
EPOS x Sennheiser GSP 500
Key highlights
Superb sound quality
Soundstage akin to audiophile-grade headphones
Solid build quality
Accurate frequency and treble responses
Designed with premium components in mind, the EPOS x Sennheiser GSP 500 is the pinnacle of open-back gaming headsets.
Its impeccable sound quality and high-quality microphone are its greatest strengths. Never miss a footstep nor mishear anything in-game ever again!
While the price may not be for everyone, what this offers is the best of both worlds – gaming and general audio entertainment.
Powered by Sennheiser's renowned audio technology, these headphones deliver rich, detailed, and accurate sound reproduction.
The open-back design also allows for a more natural and transparent audio presentation, creating a sense of depth and realism in your gaming or music-listening sessions.
Notable Mention – Antlion Audio ModMic Uni
Key highlights
Compatible with virtual all open-back and closed-back headphones
Noise-canceling technology
3.5mm audio jack – compatible with almost all platforms
Turn your normal audiophile headphones into a legitimate gaming headset with the help of Antlion Audio's ModMic Uni.
If you feel like all of the gaming headsets today are either gimmicky or overpriced thanks to the gamer tax, this is the perfect solution for you!
Simply attach it to your existing pair of cans and start your gaming session – it's that easy!
The reason we are recommending the ModMic Uni is because we featured audiophile-grade headphones above without a built-in mic.
With the help of this device, you can bypass having to own a condenser microphone and an audio interface without spending a fortune!
Of course, don't expect the ModMic Uni to have amazing studio-quality microphones, but it gets the job done. It has decent clarity, a built-in mute switch, and most importantly, it will bring new life to your current setup.
Any Questions About the Best Open Back Headphones for Gaming? (FAQs)
Still not fully bought into the idea of buying the best open back headphones for gaming?
Don't worry, because we gathered all of the most common questions related to open-back headphones.
Let's get started.
If open-back headphones are so good, why are most gaming headphones closed-back?
It all boils down to one thing – practicality. If you live in a place that has a lot of outdoor noise, then it's always nice to isolate yourself from the outside world.
However, if you are fortunate enough to live in a quiet environment, the wider soundstage of open-back designs would definitely suit you.
What makes open-back headphones great for gaming?
If you value balanced sound over dynamic sound, and you want that immersive soundstage feel that's mixed with natural sound dynamics, then these offer the REAL surround sound gaming experience.
In other words, the best open back headphones for gaming will give you amazing sound accuracy the way the sound engineers have designed them.
What's the biggest downside of open-back headphones?
One thing: Sound leakage. If you are planning to do some late-night gaming while people are in the room with you, wearing open-back headphones might not be a good idea.
Also, if you are in a room with a lot of ambient noise, expect zero noise-canceling capabilities out of these pair of cans.
Even if you have a pair of audiophile headphones, as long as it's open-back, expect to hear the room around you.
Why choose open-back gaming headphones when there are gaming headsets?
While it's true that closed-back gaming headsets are cheaper and far more convenient, as it doesn't require an external microphone, it just doesn't provide the same audio quality as a real pair of headphones.
It's like choosing between okay sound and incredible sound – you would choose the latter all the time.
If you are on the go, then it makes more sense to bring wireless headphones with a built-in mic.
When it comes to gaming headsets or open-back headphones, wired or wireless?
If purely on a desktop, stick to wired. To this day, many gamers prefer wired headphones due to practical reasons.
In fact, even streamers and content creators still use wired headphones as well, and if you're planning to spend more time on your desktop, you should have one.
Do headphones with open-back designs really sound better?
Sound can be really subjective. If you prefer dynamic, exciting sounds with some amazing bass response while having zero sound leakage, then closed-back gaming headsets can do the job.
There are audiophile headphones that are gaming-grade (honestly, any good pair of headphones ARE gaming-grade).
If you prefer natural-sounding effects, along with a true-to-life audio experience – all inside the comfort of your home, then it's time to switch to a different type of comfort level.
A great pair of quality headphones is all you need.
Conclusion
We know that investing in a good pair of headphones can be quite an investment, especially in today's trying times.
But if we can spoil ourselves from time to time, and develop intimate gaming sessions, then you can always find a good pair of cans within your price range.
We hope that our list was able to lead you to better options.
Have you found the best open back gaming headphones here on our list? Do you feel like we missed out on a great product?
Let us know in the comments, and we'll be more than happy to add it in our content.
Last update on 2023-12-10 / Affiliate links / Images from Amazon Product Advertising API