One of the best things you can do with Kodi is that you can watch plenty of movies with almost no effort at all. All you have to do is install the movie addon, search for a movie, and play – that's it!.
In this post, we will present our top 3 best Kodi movie addons to you that all improve your viewing experience.
If you're going to ask why only three if there are dozens of add-ons available? The answer is simple – these are the popular working movie addons, and In most cases, we don't need the rest.
I know there are many choices out there for Kodi movie addons; with this guide, you will find the perfect movie addon buddy you can use.
5 Best Kodi Movie Addons
Before we proceed, please note that we don't recommend that you try to pirate the games. However, if you decide to, you will need a Virtual Private Network or a VPN to hide and secure your identity.
Exodus 6.0
Lambda developed Exodus and found it in Lazy Kodi Repo. It is said that the original developer has stopped working on this addon, and Kodi fans currently maintain it.
Exodus offer Movies and TV shows; utilizing its amazing sorting feature, you can find a show according to genres, year, language, popularity, rating, and more. The sleek and user-friendly design of Exodus makes you feel like you're using Netflix.
The most recent version – 6.0, is now pulling lots of links.
Installation:
Name: Kodi Bae Repository
URL: http://lazykodi.com/
Yoda

Does the name sound familiar? You get it right; the legendary Jedi character from Star Wars is now in Kodi as a form of an addon! Anyway, Yoda is one of the best Kodi movie addons I recommend to every one second to Exodus; after the disappearance of Magicality, Yoda takes its place.
Some reviewers stated that they prefer this Yoda as compared to other movie addons since they can get more than 20 links for 1080 with RD.
In terms of features, you can't go wrong with Yoda. It has almost the same as with Exodus but with added Documentaries. Shall we call this addon an improved version of Exodus?
One thing I like most about Yoda is, it's continuously updated.
Installation:
Name: Supremacy Repository
URL: http://supremacy.org.uk/zip/repo
The Magic Dragon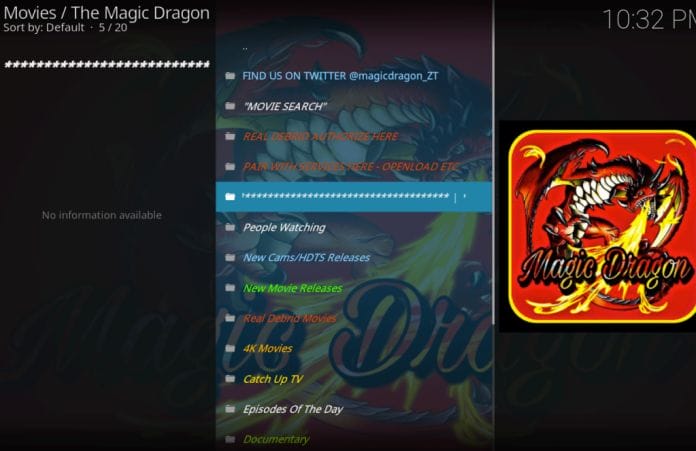 The Magic Dragon is another popular Kodi addon for watching movies and TV shows, sports, documentaries, and more. Magic Dragon is an all-in-one Kodi addon that offers SD and HD quality viewing experiences.
I recommend every Kodi users to install The Magic Dragon as it's one of the best addons that exist. Of course, you can pair Magic Dragon with Exodus and Yoda.
Installation:
Name: Supremacy
URL: http://supremacy.org.uk/zip/repo/
Conclusion
Listed above are my three best and must install addons. I highly recommend them if you love to watch movies.
What are your top Kodi movie addons? I would like to hear your input regarding this topic. Leave your message in the comment form below.