Are you in the market for the best gaming router with VPN? Well, you're in the right place.
One fact that might be hard to swallow is that the Internet is one of the scariest places that you can ever be in.
Meanwhile, when you are all out attacking your enemy's base and collecting victories, little do you know that someone from the real world might attack your device and steal all your personal and sensitive information.
According to the data from Techopedia, the cost of average data breach worldwide reached $4.35 million in 2022 alone.
Anchoring all the incident reports, what enables these cybercriminals' attacks are the lack of most internet users' cybersecurity.
To avoid these invasions, Virtual Private Networks (VPN) came into action. It is the best tool to ensure your internet privacy and block hackers coming your way.
To make your life more convenient and safe, these VPNs were also built into some of the routers for a no-hassle installment.
This article will go over the top picks for the best gaming router with VPN in the market and everything you need to know about the topic.
What Is the Fastest VPN Router for Gaming?
Enabling VPN not only means security but also comes with all gamer's favorite perks, internet reinforcements. There are lots of favorable choices if you're on the hunt for the best gaming service for a VPN.
ExpressVPN,  for instance, is one of the most recommended VPNs for gamers as it envelops excellent speeds, low ping times, and strong privacy features.
These top-notch features also come with wide network access and an impressive app for routers for you to avoid throttling on your gaming devices connected to the service. 
Is It Worth Having a VPN on a Router?
Most cybercriminals are enjoying the defenseless network; therefore, VPN on a router is a great reinforcement for your security.
It acts as a wall that protects your important information, location, and online activities as it encrypts your connection and hides your IP address to disable potential spies and attackers.
Should I Use a VPN on My Router for Gaming?
VPN also comes with a feature that enables you to hide your internet traffic from your ISP so you cannot be targeted as a high-bandwidth user, thus giving you a no-lag internet experience.
Who doesn't want a high level of security and a boosted internet combination at the same time?
Do I Need a Special Router for a VPN? 
A special router is not needed for you to be able to install a VPN. Many regular routers support VPN software, so you can install it manually at any time.
However, it's still better if you will have the best gaming router with a VPN.
Do Any Routers Have a Built-in VPN?
Yes. There are gaming routers that come with a VON pre-installed right out of the box.
You can check out the list of the best gaming router with VPN.
Also Read: 10 Best Wifi Boosters for Gaming: Perfect Gameplay Without Lag!
Best Gaming Router With VPN – Our Top 10 Picks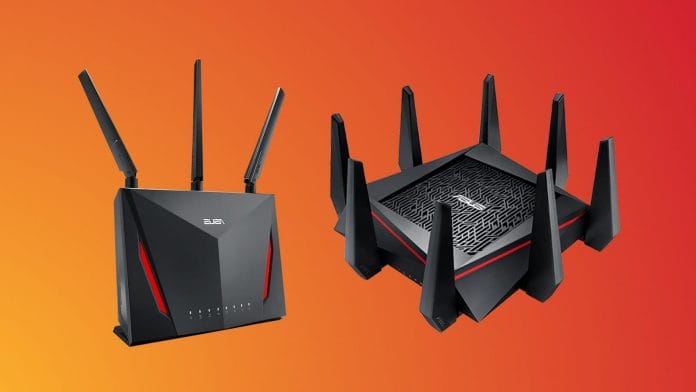 Let's be honest. No one wants to spend hours and hours browsing through Amazon just to look for a fairly decent product.
Why do that when you already have the 10 Best Gaming Router With VPN listed here for you?
10. Synology RT2600ac
This best gaming router with VPN offers breakthrough wireless speeds and a 1.7GHz dual-core processor for high-speed performance, moreover, a smooth conversion in maximum speed or range.
Other Pros:
Advance traffic control and monitoring
Expedite VPNs with WebVPN, Synology SSL VPN, and SSTP VPN capacity
9.TRENDnet AC3000
The capability of this router offers insurance for optimal performance, scalability, and protection of your network.
It also comes with two separate high-performance and advanced router feature management.
Other Pros:
Whole office-home WiFi
High-performance AC3000 tri-band WiFi
Balances network traffic
8. TP-Link AXE16000 Quad-Band WiFi 6E Router (Archer AXE300)
This best gaming router with VPN offers ultra-high-speed internet access, more bandwidth with near-zero latency, and the possibility of faster NAS transmissions over the LAN.
Other Pros:
Dual 10Gb ports Wireless internet gaming router
4X Gigabit LAN Port, 2.5G WAN/LAN Port
7. Cudy 5G NR SA NSA AX3000
Perform at lightning speed with this best gaming router with VPN, which is a top-notch pick for seamless online gaming and streaming with minimum latency.
This also comes with dual sim slots to keep you online in whatever circumstances.
Other Pros:
Replaceable cellular antenna
Supports 5G NR downlink with a speed of 2.5 Gbps and 4G LTE downlink of 1 Gbps speed
Band lock and VPN Zerotier
6. ASUS TUF Gaming WiFi 6 Router (TUF-AX5400)
This product will surely eliminate your frustration with complicated manual configuration, for it comes with easy port forwarding in just three simple steps.
Above all, it has a dedicated gaming port which gives you incredible gaming reinforcement.
Other Pros:
Stable operation and durable built
Ultra speed is 5400 Mbps and 4x network efficient with OFDMA and 160 MHz
5. TP-Link AX6600 Tri-Band WiFi 6 Router (Archer AX90)
This best gaming router with VPN has ultra connectivity to ensure maximum flexibility and boost internet performance.
Its premium security also keeps your home network safe while providing a less lag service to multiple connected devices.
Other Pros:
8-stream gigabit router with 2.5 WAN Port
1.5 GHz Quad-Core CPU
0 degree Celsius to 40 degree Celsius operating temperature
4. TP-Link WiFi 6 Gaming Router
This is for those who are demanding a less lag experience on more connected devices. This provides boundless connectivity and ensures summit network performance.
What's best is that it detects and optimizes gaming streams for you to stay on fire in your game.
Other Pros:
AX10000 speed machine with 10 Gbps (5 GHz Gaming), 4804 Mbps (5 GHz), and 918 Mbps (2.4 GHz) combo
Runs with all internet service providers and intense TP-Link HomeCare protection
3. TP-Link AC4000 Tri-Band WiFi Router (Archer A20)
This product's best feature is that it eliminates buffering and lets you connect several devices simultaneously with incredible speed.
It also covers a wide range of WiFi all throughout the home while working great as the best gaming router with a VPN.
Other Pros:
Triband Wireless Internet Router for high-quality streaming and gaming
Advance Security with next-level antivirus, parental control, and QoS
1625 Mbps ON BOTH 5 GHz BANDS AND 750 MBPS and 2.4 GHz bands
2. TP-Link AX5400 Tri-Band WiFi 6 Router (Archer AX75)
This router is a great choice if you are into a super-fast Tri-band WiFi 6 router.
It also comes with great deals like high-performance antennas, a tri-band for safe connections with more devices, and a great defense to enjoy your faster browsing, streaming, and gaming experience.
Other Pros:
Powerful Quad-Core Processing
Supported by OneMesh
Premium security service from TP-Link HomeShield
1. ASUS ROG Strix AX5400 WiFi 6 Gaming Router (GS-AX5400)
This router is a must for gamers hunting for an ultrafast speed of 5400 Mbps with 160 MHz Wifi 6 channels that support fully optimized gaming.
It runs a VPN and has constant internet speed while protecting your privacy with maximum defense.
Other Pros:
Instant Guard using GS-AX5400 in one click
ASUS AiMesh Support, lifetime free internet security
With dedicated Gaming Ports
Keep Intruders Out With the Best Gaming Router With VPN
Let there be no attackers in your base, but more importantly, your data. The best gaming router with VPN does not only exist for defense but for an unstoppable boost of internet connectivity.
Avail these best routers with VPN for a hastened gaming experience with the assurance of safety against cyber criminals.
So, which is the best gaming router with a VPN for you?
Tell us in the comment section below.
Last update on 2023-11-30 / Affiliate links / Images from Amazon Product Advertising API