We're back at it again! This time we're going to be pinning the ASUS TUF Gaming laptop vs. MSI Gaming laptop.
This ultimate gaming laptop showdown will decide once and for all who is the true bang-for-the-buck king.
Both of these brands have seen success with their mid-range offerings, with very solid fanbases.
If you're struggling to choose which laptop you should get on your next purchase, let Gamegrinds help you out.
To ensure both products are on a level playing field, we're going to use the price, technical specifications, as well as the overall value you'll get from these.
Our main priority is to compare these gaming laptops with near-equal specs.
But before we begin, let's talk about our comparison guidelines and how we are going to select our winner for this article.
ASUS TUF Gaming Laptop vs. MSI Gaming Laptop Comparison Guidelines
We understand that you want the ultimate gaming experience that you can afford.
Here are some of the aspects we value for the comparison:
| Features | What We're Looking For |
| --- | --- |
| Refresh Rates | A gaming laptop's display should be able to support at least a 120 Hz refresh rate (not frame rates) |
| Display Type (IPS Display, VA, TL) | To achieve a fully immersive experience, the display type should be heavily considered especially if you also plan on using your laptop for work or school. |
| Backlit Keyboard | The type of backlight used, how bright, and how reliable each keystroke is |
| Innovative Designs | It should come with USB-C, multiple USB ports, and other I/O ports that you can use on a regular basis |
| Overall Value | Do you really get what you pay for? The head-to-head will help us understand the price point. |
It's very common to see identical spec products with different price tags. With that being said, it would be unfair to compare an Intel Core i7 to a Core i5.
However, it also means that some products have to cut corners to provide an amazing value on paper.
ASUS TUF Gaming Laptop vs. MSI Gaming Laptop – Tale of the Tape
It has always been a Gamegrinds tradition to compare these two powerful gaming laptops side-by-side.
Our competitors for this article are the ASUS TUF F15 and the MSI Pulse15.
Just how identical are they and what sets them apart? We'll soon find out.
One thing is for sure: Both of these laptops have powerful specs and they both are very compelling.
Let's look at the two on paper:
Technical Specifications
| | ASUS TUF F15 | MSI Pulse15 |
| --- | --- | --- |
| PRICE | $1,499 | $1,499 |
| CPU | 12th Gen Intel Core i7-12700H | 13th Gen Intel Core i7-13620H |
| RAM | 64GB DDR4 RAM | 32GB DDR5 RAM |
| GRAPHICS CARD | Nvidia GeForce RTX 4070 8GB VRAM | Nvidia GeForce RTX 4060 8GB VRAM |
| STORAGE | 2TB PCIe SSD | 1TB NVMe SSD |
| DISPLAY | 15.6" 144 Hz Full HD IPS | 15.6" 360 Hz FULL HD IPS |
| CONNECTIVITY | Wi-Fi 6 Dual-Band, Bluetooth 5.2 | Wi-Fi 6 Dual-Band, Bluetooth 5.2 |
| WEIGHT | 2.2 Kg | 2.3 Kg |
| BATTERY LIFE | 4-Cell Li-ion 90 Battery (Whr) | 4-Cell 90 Battery (Whr) |
| OPERATING SYSTEM | Windows 11 (Home/Pro) | Windows 11 (Home/Pro) |
Prices are subject to change at the discretion of the manufacturers
While some might think these are eye-watering prices, these two are actually the most bang-for-the-buck options for 2023 especially if you don't want to go over $1,500 to $2,000 bucks!
ASUS TUF F15 – A Closer Look
About ASUS TUF F15
The ASUS TUF F15 is a remarkable gaming laptop because it has combined last-gen and next-gen tech under one neat package.
This beefed-up version is perfect for gamers, content creators, and even work-from-home (WFH) professionals.
For 1,500 bucks, you can experience next-generation gaming thanks to the RTX 4070 8GB GDDR6, coupled with a 12th Gen Intel Core i7 processor.
This variant also comes with a whopping 64GB DDR4 RAM – which is best in class.
While some might argue that buying last-generation specs on a brand-new laptop is not worth it, you can see why the TUF F15 could be an exception.
It's safe to say that you can play any game on this machine thanks to its impressive specs.
MSI Pulse15 – A Closer Look
About MSI Pulse15
Next-generation performance with next-generation specs is what the Pulse15 is all about.
This gaming laptop has everything you would expect for the latest and greatest mid-range computer specs: an RTX 4000 graphics card, a 13th Gen. Core i7 processor, and DDR5 RAM – all under $1,500 bucks.
While the RTX 4060 is not more powerful than the RTX 4070, what you get in return is the peace of mind of having all the latest-gen components that will perform well in the next few years.
With 32GB of DDR5 RAM and an ultrafast 1TB NVMe SSD, this gaming laptop can basically do it all with ease.
ASUS TUF Gaming Laptop vs. MSI Gaming Laptop Showdown
This section will break down all the important aspects when buying a new gaming and/or business laptop.
Each category will have a winner and we can tally all of them up at the end of it.
Design
The ASUS TUF F15 has evolved when it comes to design choices. Gone are the days of rugged looks with a bit of gamer aesthetics.
The simplicity of the outer case is perfect for gamers who are looking for a low-profile, sleeper laptop.
The MSI Pulse15, on the other hand, has gamer aesthetics plastered from the inside out. Both are equipped with RGB backlit keyboards, and both come with large laser-printed fonts.
If you want a futuristic-looking laptop, then this is the obvious choice.
While our choice for the winner here can be subjective, we had to go with the ASUS TUF F15 because of its overall design.
Also, if you happen to use the touchpad more often, you will immediately know why we chose ASUS with this one.
Winner: ASUS TUF F15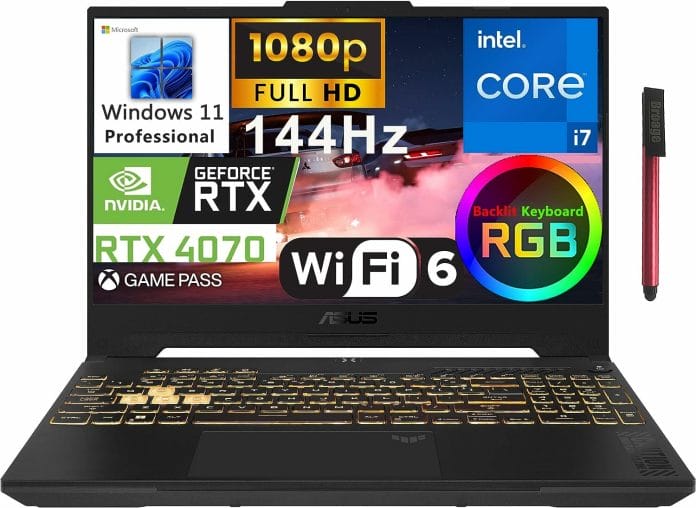 Hardware
The TUF F15 variant that we chose for this showdown is basically a robust gaming machine.
A slightly faster processor, a superior graphics card, and more RAM and storage than you would ever need, all under $1,500.
With the Pulse15, you are going to get all the latest components, plus more usable ports for all your peripherals.
You'll also get a more energy-efficient processor with the 13th Generation Core i7, which goes perfectly with 32GB DDR5 RAM.
Sure, the Pulse15 may lose out on twice the storage and RAM, but if you factor in all the other features of next-generation computing, it's a risk worth taking.
Winner: MSI Pulse15
Display
The TUF series is one of the pioneers of releasing high refresh-rate screens for budget-friendly gaming laptops.
The 15.6" Full HD IPS display is capable of up to 144hz with G-Sync and has an SRGB rating of 100 (Adobe: 75.35).
The color configuration out of the box is sharp and clear, but if you want something next-gen, then you should check out the 15.6" Full HD IPS display of the Pulse15.
It has one of the highest refresh rates available on a laptop screen at 360hz. It also has an SRGB rating of 100 (99.5 DCI-P3) that returns really attractive and vibrant images.
Unlike the other categories so far, we definitely have a clear winner here.
Winner: MSI Pulse15
Input/Output
On paper, the TUF F15 and the Pulse15 are identical in the number of ports, as well as the function.
This is very common for budget to mid-range laptops because this is where most manufacturers find ways to cut corners.
While both the MSI and ASUS gaming laptops have similar connectivity and I/O options, the MSI Pulse15 has one port that can change the balance of the contest: the Thunderbolt port.
If you're a professional, then you know how valuable this is.
Winner: MSI Pulse15
Gaming Performance
The TUF F15 has a faster processor, a faster graphics card, more space for your games, and the capability to play almost all games at 144 FPS (results may vary by graphics quality) in its native resolution.
Pulse15 may look slower on paper, but the difference is acceptable for some people especially when you know you're getting a more energy-efficient machine out of the two.
If you are future-proofing your components, the Pulse15 won't disappoint.
With that being said, we have a very clear winner here.
Winner: ASUS TUF F15
Price
Both gaming laptops are reasonably priced at $1,500 bucks. Both of them have very interesting value propositions and it really just boils down to your intended purpose and personal preference.
If you want the best gaming machine on the go for this price point, then the TUF F15 is for you.
However, in case you're after a better overall machine that can pretty much do it all, the obvious answer is the Pulse15.
Either way, no losers here.
Winner: Tie
Disclaimer: We didn't include the battery life because the battery capacity of mid-range gaming laptops is unremarkable and mediocre at best. But if you need a winner, then it's a tie. You should never leave home without your power cable.
The Verdict
It shouldn't be hard to pick a winner here. If you're looking for an overall better value, then get the MSI Pulse15.
However, if you're purely focused on gaming prowess, then the more capable ASUS TUF F15 is the way to go.
However, since we tallied up the numbers, the obvious winner here is the Pulse15.
It's new, it's powerful enough to handle pretty much anything, it has more useful ports for everyday use, and most importantly, it's equipped with the latest-generation components.
All in all, there's no real loser here when you pick either of the two because the difference in performance is very minimal (except when we talk about gaming), and they are guaranteed to last for years to come.
Conclusion
What do you think of the ASUS TUF gaming laptop vs. MSI gaming laptop?
While we obviously love what the Pulse15 can do, you should never sleep on the TUF F15 and its very-capable specs.
Do you agree with our scoring methodology and verdict? Which one do you think is the better option? Do you want us to cover the same head-to-head with AMD processors instead?
We really love to hear your opinion! Let us know in the comments and let's the conversation going.
Also see: Samsung Galaxy Chromebook vs. MacBook Air
Last update on 2023-11-30 / Affiliate links / Images from Amazon Product Advertising API