The Chromebook is a type of laptop that runs on the Chrome OS and is capable of running some Android apps. It can be in different designs because like any laptop, it will always have its variety.
The Chromebook is perfect for different people who have different needs. They can use one for school or for work, and these are also perfect for kids.
That's right, while a lot of kids today use mobile devices and video game consoles, a Chromebook can also be a good thing. Here is a list of the 10 best Chromebooks for kids in case you want to buy one.
The kids can be a bit young for an advanced PC, so why not have a Chromebook that the kids can use.
There can be a lot of factors that you need to consider before buying one for your kid. There's always the issue of the price, but even if you have the money there are other things to think about.
Another thing is the strength of the Chromebook and more. Don't worry; we'll include reasons why these units are the best although they won't be in order.
(Note: All images are from Amazon.com)
The 10 Best Chromebooks for Kids
1. Asus Chromebook C202SA-YS04
This unit has something going on for it and that is that it can be very durable. There are rubber bumpers located on parts of the laptop to make sure that it endures a fall in case the kids get a little bit rowdy.
It also has impressive resistance to some fluids as long as there isn't a lot spilled on the unit.
2. Lenovo Chromebook C340 15
The unit is a bit slimmer and lighter than other ones. One thing that it has that can help it stand out is that the monitor can bend all the way to the back.
If you look at the image, that's how far it can bend without breaking and the kids can enjoy your videos on the HD screen output.
3. Samsung Chromebook 3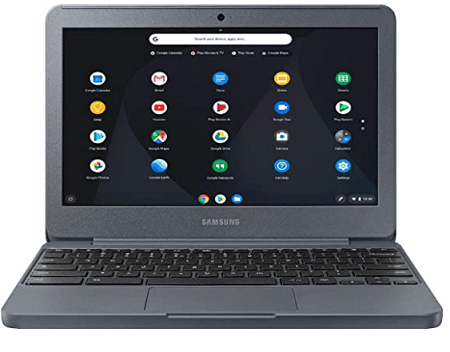 The Samsung Chromebook 3 isn't as old as you would think. While newer models are out, this unit can still do the job.
It isn't as bulky as other units and it can still withstand some abuse. It also has a spill-resistant feature allowing it to endure some fluids being spilled on it.
It can last up to 10 hours or more. The other thing is that it is very affordable from $250 minimum for new units.
4. Google Pixel Slate
This one is a good thing to be on the 10 best Chromebooks for kids. The Google Pixel Slate can be a laptop but at the same time be a tablet.
The monitor can be detached making it a tablet. The keyboard can still function via Bluetooth connection.
Basically, the child can use the keyboard while the LCD can be situated somewhere else as long as the connection there. It also comes with a stylus pen for those easy touchscreen needs.
5. Acer Chromebook 11
This one is defined by three words that are safe, affordable, and effective. While the Acer Chromebook 11 doesn't have fancy features, it is safe for kids with its anti-glare panel.
The kids' eyes won't be strained and hurt after hours of staring into the screen. It also lasts up to 10 hours or more and has some good durability to it.
6. Lenovo 300E Chromebook
This unit can be a bit bulky but not inconvenient for kids to carry around because it isn't that heavy. In terms of durability, a lot of satisfied customers stated that it can withstand a lot of abuse like being dropped on the floor.
It is also able to bend as far to the back as possible and the E on the name stands for education which is perfect for the kids.
7. HP Chromebook 11 G4 EE
This unit is perfect for the kids that do a lot of work at school. They can use this more on schoolwork, but it is also suitable for leisure like watching videos and playing some games because of the screen's anti-glare feature.
It isn't that bulky and can endure some damage to it if the kid is a bit rowdy.
8. Acer Spin 11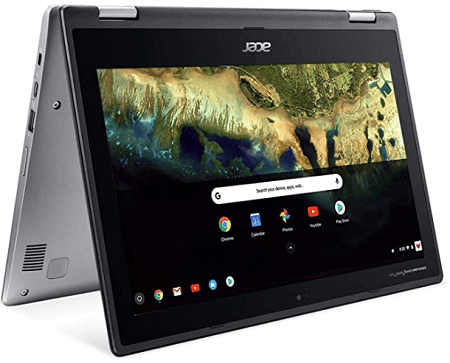 The Acer Spin 11 is another perfect addition to the 10 best Chromebook for kids. The name itself Spin allows the unit to spin or bend the monitor all the way to the back without the fear of breaking.
It also has its own stylus, perfect for kids that love to be a bit artistic. Despite its appearance, the unit is also durable on a lot of occasions and prolonged use.
9. Asus Chromebook Flip C202CA-DHM4
Taking a look at the image above gives you an idea of what this thing can do. It can flip and bend all over the place which is perfect for kids that like to use their devices in a bit of a rough manner.
The durability of the unit is also impressive enough that you'll want to buy it. Accompanying its durability is the fact that it is very light and handy to carry around.
10. Samsung Chromebook Pro Convertible
The last one is the Samsung Chromebook Pro Convertible. A very standard unit with impressive durability and can last up to 10 hours of use.
It can also bend to a certain point, and one thing it has are backlights for the keyboard. This means the child can see the keyboard's characters in the dark, allowing them to type easily and more.
Conclusion
Here are the top 10 Chromebooks for kids that you can purchase. We didn't focus too much on the technical specifications of the devices, as they are capable of performing the necessary functions that parents seek for their children.
It all boils down to how sturdy, affordable, and usable the Chromebook is.